Most business owners already know the importance of website optimisation. But getting into it and doing it right is where they have trouble. Regardless of whether you can get it right, optimising your website for Google search is key to your success online. Without SEO, your business will barely stay competitive. And with how the internet has changed marketing, you might not even stand a chance.
Read on to know why you should optimise your website and how to optimise your website for Google search.
First, what is SEO?
SEO or search engine optimisation is a set of processes aimed at increasing traffic to your website through search engines like Google, Bing, Yahoo, etc. Naturally, people turn to search engines for answers to their problems. If you have a solution to their problem on your website, SEO is the process of bringing these people to your website and possibly turning them into customers.
This article will concentrate on Google search because it is the most popular search engine.
Why you need to optimise for Google search
1. To gain visibility:
Gaining visibility on Google means being discovered by searchers making queries related to what you offer through your website. Your website, no matter how pretty it looks, will be useless if it's not visible to searchers. It's just like a regular physical business. You may have the most delicious Pastel in Sao Paulo, but you won't make a sale if your business is not visible to locals who love pastel. SEO makes your business discoverable.
2. To attract qualified leads and grow organic traffic:
Results have shown that organic traffic delivers higher ROI and conversion than paid ads. And on top of that, SEO traffic is free. For your website to be discovered during a search, it must be optimised for the keyword(s) been searched for. This means anyone who navigates to your site after searching for that keyword or phrase is a qualified lead and may become a customer.
3. SEO makes your website relevant to your target customer:
Google has made it clear that relevance is the number one ranking factor. The search engine will also continue to serve content that is most beneficial to its specific audience. When you invest in SEO, you practically make efforts to improve your website's relevance so that you have a chance of showing up in search. From your website's design to keyword research, content and link building, proper SEO makes you focus on providing value, thus becoming relevant, ultimately increasing traffic and driving conversion.
Optimising your website for Google Search.
Follow the steps below to start optimising your website for Google. However, keep in mind that search engine optimisation is not a one-off thing. It's a process and following these steps religiously the first time will not be enough. You need to regularly carry them out, make changes and continue to optimise for long as your website remains.
1. Conduct in-depth keyword research:
SEO starts with keyword research because for users to find your website, they must search with a term related to your business. When doing keyword research, think about words that your prospective customer would search for, why they would search for them and the kind of information they would expect to find during their search.
Use tools like the Google keyword tool planner or SEMRush to discover terms that users use to make queries. Focus on finding long-tail keywords as they provide some insight into the user's intent when searching. For instance, a long tail keyword like "how to increase website speed" is more specific and shows the particular information the searcher is looking for instead of a keyword like "website speed".
So, throw in the seed keyword that your business is about into the keyword tool and look through the keyword ideas it would generate. Gather as many long-tail keyword ideas relevant to the different pages of your website and prepare to create valuable content on them. Keyword research is a pretty straightforward process, and there is a plethora of keyword tools available to help you find profitable keywords in no time.
However, if you feel it's too complicated for you to do, consider hiring a professional to get it right because keyword research is the foundation of all your SEO efforts. If you fail to target the right keywords, your chances of achieving results with SEO are bleak.
2. Write quality relevant content:
By Google's standard, quality, relevant content is content that satisfies the user's search intent. So, when creating content, include all relevant information on the topic, and incorporate your keywords (but do not overdo it) into the content. Take the time to create accurate, in-depth content about every topic related to your website and keyword.
If need be, hire a professional content writer, create content across different platforms and formats, and use a variety of texts, images, and videos to convey your message. Just make sure that you are serving enough information to searchers looking for answers and solutions.
If you are creating content for your website's services page or home pages, make sure you mention everything you have to offer and be as clear and descriptive as possible. In addition to creating quality content, make sure you keep content up to date at all times. Outdated, unreliable content will negatively impact your SEO.
3. Optimise on-page factors:
Metadata, headlines, subheadlines, URLs, and content are the on-page SEO factors that play a vital role in your website's SEO. Use accurate titles, take the time to write, include your main keyword in your headline, metadata, and throughout your website, including image alt texts. Endeavour to incorporate keywords naturally so that you do not come across as a keyword stuffer.
4. Optimise off-page factors:
SEO does not begin and end on your website. Off-page SEO factors like guest blogging, brand mentions, social media, influencer marketing and link building play significant roles in improving your website's SEO. They help drive traffic to your site and send a signal to Google that your website is credible and contains information that satisfies user intent.
5. Optimise for mobile users:
If your website is not mobile-friendly, you have a tiny chance of doing well on the search results. Since Google announced its mobile-first indexing algorithm in 2016, it gave mobile responsive websites preeminence on the search results. Optimising for mobile users encompasses delivering an unforgettable user experience from the design to formatting and site load time. In this article, we talked extensively about improving your site's SEO and optimising your website for mobile users.
6. Improve your website's load time:
When it comes down to SEO, website speed is a serious ranking factor. Your website will rank lower, receive less traffic and even notice a massive decline in traffic if it takes forever to load. You will also see a high increase in bounce rate if your pages load slowly. Use the Google page speed insight tool to check your website's load time and improve your site if your pages load slowly. You can also use GTmetrix to check your site's speed and receive actionable insights on improving its performance.
7. Start building links:
We can't talk about website optimisation without talking about link building. From internal links to backlinks, link building is a critical part of optimising your website. Create an organised internal link structure and invest time and effort into building quality backlinks from credible, authority websites. Also, remember to replace or remove broken backlinks, as they can impact your SEO negatively.
8. Stay on top of everything:
Continuously analyse your website's data. Use Google Search Console (GSC) to track metrics like bounce rate, number of sessions, etc. and monitor your site's presence and performance on the SERP. Use user behaviour reports to monitor how users interact with your website, take note of where they enter your website from, the pages or section they visit immediately they land, actions they perform, and where they abandon your pages. Use this data to understand your audience better and know if they are carrying out the specific actions you want them to perform. If not, use the data insights to see what you can do to improve their behaviour on your website. Rewrite pieces of content that are not compelling enough, improve your CTA copy, add a CTA or remove an existing one. Analyse your internal linking strategy and improve it if need be.
Like I said before, SEO is a continuous process. It will never end as long as the internet and your website remain. So, you must continue optimising your website for Google search if you want to stay winning on the internet.
Recap
Top reasons why you need SEO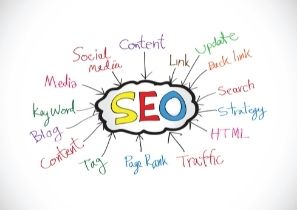 To gain visibility
To attract qualified leads and grow organic traffic
To make your website relevant to your target audience, drive traffic, and increase conversion.
8 solid ways to optimise your website for Google search
Conduct in-depth keyword research
Create quality relevant content
Optimise on-page factors
Optimise off-page factors
Optimise for mobile users
Improve your website's load time
Start building links
Stay on top of everything.
Although it sounds complicated, SEO is relatively simple, especially if you have a small, local business. It's nothing that you cannot handle. However, if you feel you are not up to the task or need some guidance, it's time to consider hiring a professional. SSGC online provides local SEO services in Australia. We are here to help your business thrive on the internet with custom SEO solutions tailored to your goals. Let's schedule a discovery call to show you how we can help move your business forward with performance-driven SEO services.