Wondering if a high bounce rate can affect your site's ranking or conversion?
This is a major concern for webmasters and marketers.
But what do you do when you look at your analytics and find that your website's bounce rate is high?
Today, I will show you 5 reasons why your site's bounce rate is so high and 6 ways to lower the high bounce rate and improve conversion.
First, what is bounce rate?
Bounce rate refers to the percentage of persons who land on one page of your website and leave without visiting other pages.
Google defines bounce rate as a single-page session on your website. Meaning that if someone lands on your website from the Search Engine Results Pages (SERP) or another site and leaves back to whence he came without visiting another page, then that session is logged as a bounce.
But what if a visitor spends a long time on your page before bouncing back to the search results? Or what if your website is a blog or offers the type of content that require single page visits only?
You see, a high bounce rate is not conclusive evidence that something is wrong with your website. I'll explain this in a bit.
If you own a local business, and a visitor comes to your site looking for your business address or phone number. He collects the address or number, clicks back to the search result but later calls or visits. The session is logged as a bounce but did it lead to a conversion?
Yes. However, if visitors visit your page, and bounce right back without converting, then it's something to worry about. Because a business with a high bounce rate and low conversion rate has little chances of success.
But how can you calculate your website's bounce rate?
Go to the audience overview tab of Google Analytics to see the average bounce rate of your entire website.
In the behaviour column of each page, you will also find the bounce rate of individual pages.
But do not view the bounce rate metric alone.
Look at the total number of visits your site has, the time spent on-site and average pages per visit. Measure bounce rate by these metrics to determine how successful your website is.
Thus, if the average time on site is high along with bounce rate, that's an indication that your site satisfied the visitors' search intent, and there was probably no need to navigate to other pages.
The correct answer is: It depends.
It depends on the kind of website you have, your goals and your content. This infographic by Neil Patel shows the average bounce rate by industry
If your website's bounce rate is above the average, do well to check other metrics like the time spent on site, conversion rate and page visits.
A high bounce rate with low time on site and poor conversion indicates a problem that needs to be fixed immediately.
And since your goal is to keep your website sticky, lower bounce rate and increase conversions, let's look at 5 reasons why your bounce rate is so high.
1. Slow-loading website:
For the umpteenth time, no one is going to wait for ages for your website to load.
Today's searchers are fast-paced. If your site takes more than 3 seconds to load, rest assured they will click right back or close the tab.
Plus, Google has announced severally that site speed is a huge ranking factor.
So, a slow loading site harms you in many ways.
2. Your website is not mobile-friendly:
Mobile responsiveness has been at the top of all website discussions since 2016.
According to Statista, mobile devices generated 54.8% of global website traffic in the first quarter of 2021. This is 4.8% above the 50% mark it had been since 2017.
What does this tell you?
More people are searching from their phones.
If your website is not mobile responsive, then the texts and images will squeeze when opened on a mobile device. Your visitors will become frustrated, and they'll click back to google immediately.
Frankly speaking, you are hurting your business if you fail to make your website mobile-friendly.
3. Terrible User Experience:
From dull colours to complex navigation, large blocks of texts, annoying pop-ups and irrelevant visuals, a poor user experience will make people bounce.
Try as much as possible to provide a good user experience so that visitors are motivated to stay on your page and complete desired actions.
4. Irrelevant content:
Have you ever clicked on a search result expecting to find certain information but get really annoyed when you are greeted with something else?
That's how visitors feel when they land on your site, and the information you have is not relevant to their query.
They bounce back to the search results and go to your competitors.
It's even worse when you use misleading or inaccurate meta titles and descriptions. Make sure that your metadata accurately reflects the content of your pages.
And in turn, let your content always satisfy the search query.
5. Too many confusing Call To Actions (CTA):
Do not expect your visitors to spend time figuring out what your CTA is about.
They are not patient; they want the easy way.
Asking them to figure things out with several unclear calls to action will make them bounce.
6 ways to lower high bounce rate and increase conversion.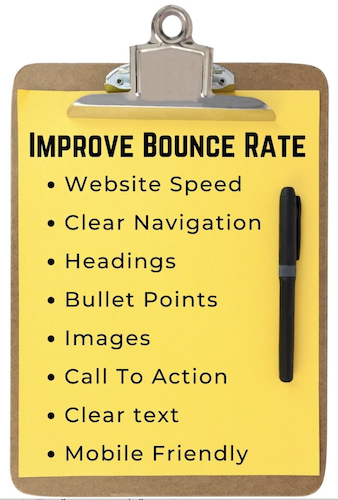 1. Optimise your website's load time:
Use the Google page insight tool to analyse your website's speed and gain insights on ways to improve it.
Because Google prioritises good user experience, it ranks websites that load quickly higher than those that do not.
Now, remember that website speed optimisation is not a one-off thing.
You have to do it regularly to maintain a good user experience, lower bounce rate and improve your ranking.
2. Fix your website's navigation:
One of the reasons visitors bounce is when your site's navigation is complex.
Like I mentioned earlier, searchers are lazy. They do not have the patience to figure out anything.
So, you want to maintain clear, straight forward navigation and make important information easy to find.
Use a smart, internal linking structure to link your pages together so that visitors can move from one page to the other quickly.
3. Create content for user intent:
As you go about creating content, make user/search intent your priority. This will enable you to create content that is relevant to your audience.
Make sure you get your keyword research right and serve content that satisfies the intent behind such keywords.
If your website loads fast, is easy to navigate and contains relevant content, visitors will spend time, visit regularly and navigate to other pages.
4. Maintain clear, excellent formatting:
The way you present your content will either motivate visitors to stick around or cause them to bounce.
If you decide to neglect readability and present content with:
large walls of text,
too small fonts,
zero visuals,
zero headings,
no white spaces
zero bullet points
Then, expect visitors to bounce.
Use brilliant formatting options to make your content scannable.
Make use of bullet points, headings, and appropriate images so that visitors can quickly find what they need.
Break up large blocks of texts with white spaces and keep the font size at medium so that your visitors can read without feeling overwhelmed.
Make your website mobile responsive:
Your business will not do well in this day and age without a mobile responsive website.
If your site isn't already responsive, hire a professional web design company now to fix it.
Everyone is searching with their mobile phone, and if your site is not responsive, visitors will surely bounce. You need to optimise for mobile users if you want to reap the benefit of online marketing.
Use clear CTAs:
What is the ultimate action you want visitors to perform when they land on your website? Summarise it into one clear call to action and place it strategically on your website.
It's best practice to keep your CTA as simple as possible.
If you want visitors to book an appointment, then guide them to do just that.
Including several CTAs on one page will confuse visitors and motivate them to bounce back to Google.
Summary…..
Bounce rate refers to the percentage of people who visit your web page without navigating further.
A high bounce rate does not always mean something is wrong. Especially when the conversion rate is great, and visitors are spending valuable time on your website.
But when a low conversion rate accompanies a high bounce rate, then you might have a problem.
To keep your bounce rate at bay while optimising your site's conversion, implement the following:
Optimise your site's load time
Fix your website's navigation
Optimise your content for user intent
Maintain clear, excellent formatting
Make your website mobile responsive
Use a clear call to action.
I hope this article answers your questions and helps you decrease your website's bounce rate. If you need help optimising your site for mobile or boosting your search ranking, kindly speak to me now, and I'll be glad to help.